A Better Patient
Experience Guaranteed
ClenchyTM The revolutionary Aligner Seater
FDA Registered & Patented
See What Others Are Saying
I recommend Clenchy™'s to all my patients. The shape and size are uniquely contoured to adapt the aligners to the teeth. The size of the Clenchy™ make it easy on the TMJ, for ease of use and it fits well into the aligner case
Our patients are loving their new Clenchy™'s and say they are more comfortable and last longer
Clenchys are a must have if you wear Invisalign. They're easy to use & help with seating your aligners nice and tight. Clenchys with the pick make it easier to remove Invisaligns. I use these when I don't want to get lipstick all over my hands trying to get my Invisalign off.
Clenchy™ The Aligner Seater That
The unique design of Clenchy™ makes it easy to hold and chew.  It helps close the airgaps between your teeth and the clear aligners. Using your Clenchy™ regularly will insure you finish your treatment on time and desired results.  The Clenchy™ does not retain moisture or produce more saliva like other products.  Clenchy™ will last longer and make your aligner fit and feel better.  The compact size fits in your aligner case to conveniently store and take on-the-go.  Clenchy™ also helps with TMJ.  Clenchy™ is made of a FDA registered Patent latex free material.  It is flexible yet firm and does not lose its elasticity over time.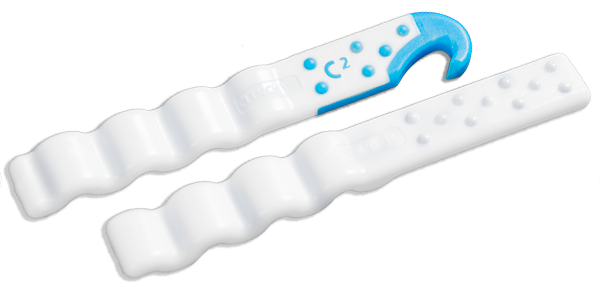 Experience the Difference
Clenchy™ Ortho Outperfoms Other Aligner Seaters
INNOVATIVE DESIGN
Dual-sided surfaces in firm, latex free, flexible material provides an easy chewing option for orthodontic patients.
IMPROVED PERFORMANCE
Comfortably and efficiently closes airgaps between patients' teeth and clear aligners.
LOW COST
Budget-friendly Clenchy™ Pack of 2 aligner seats lasts patients longer than comparable products.